Henderson's Past and Future History
Heavy industry literally put Henderson on the map 75 years ago during World War II with the construction of the Basic Magnesium Inc. plant, known to locals as BMI.
To aid the war effort, a factory town of nearly 6,000 people sprang from the desert in 11 months, marking the community's long association with industrial development.
Today Henderson seeks to honor its blue collar roots while looking ahead to a future where investments in healthcare and education are used to attract new businesses and residents.
Barbra Coffee is the director of economic development for Henderson. She believes the future of Henderson will be in the healthcare sector.
The new Henderson Hospital will open this fall as part of the Union Village development. Coffee believes that is just the first step.
"I think you'll see a great deal of healthcare development follow alongside the new hospital development that anchors the Union Village development," she said.
Scott Muelrath with the Henderson Chamber of Commerce agreed with Coffee. He told KNPR's State of Nevada that as the chamber tries to draw businesses to Henderson and keep businesses in the city that quality of life is a big factor.
Muelrath said that healthcare plays into the quality of life in Henderson and for many years it has been "underserved."
Rick Smith is a developer in Henderson and a big supporter of schools like Nevada State College, which has a nursing program and is working to expand it.
He said that industrial businesses will be a part of the future of Henderson, but healthcare is a "sure bet" for the city.
"The future of Henderson will certainly be a center for clean industry," he said, "It will be a center of healthcare, healthcare providers, hopefully healthcare industry."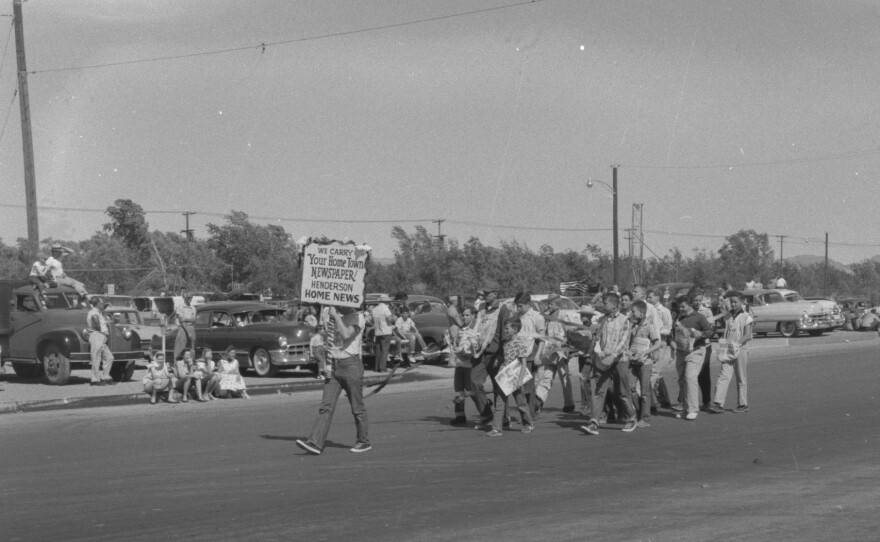 Henderson Home News paperboys in 1955 Industrial Day Parade. Henderson, Nevada
Henderson Historical Society
Children in 1955 Industrial Days Parade Henderson, Nev. representing Henderson Libraries. If anyone recognizes the children in the photo call the Henderson Historical Society
Henderson Historical Society
Beauty queen riding in convertible in the 1955 Industrial Days Parade for Dante's, a popular burger restaurant at the time.
Henderson Historical Society
Army and Market Streets in 1943
Henderson Historical Society
Army and Market Street in 2013
Basic Magnesium Inc. plant site in 2106
Henderson Historical Society
Henderson Heritage Days parade. This year's parade will be Saturday.
Henderson Historical Society
Pioneer Days celebrations from a past year. Henderson residents, young and seasoned, join together to share stories, photos, and an afternoon of reminiscing.
Henderson Historical Society
Native Nevadan, Lynn Starr (maiden name Hildebrand), who was crowned Miss Industrial Days 1962. Industrial Days used to have a week's worth of activities, including a beauty pageant and basketball game.
Henderson Historical Society
HIGHLIGHTS OF INTERVIEW WITH RICK WATSON:
What was it like to grow up in Henderson in the 50s and 60s?
Henderson was a really small town. Everybody knew everybody. There were no sidewalks in a lot of the town until I was almost out of high school.
We would walk down to the old Victory Theater in the old Water Street District and rather than follow the streets we would just cut through everybody's yards. Maybe that's when they started building fences.
How devastating was the Pepcon explosion to Henderson's economy at that time?
It broke windows and scared people, but I think business went on. I think it made people nervous about being next to an industrial center. Henderson did a lot of good work to calm people's nerves and to rebuild.
Do you ever for see heavy industry coming back to Henderson?
I think that area is well suited to all kinds of manufacturing and businesses. It has water and it has power. That's why the plant was developed there in the first place.
How are you going to be celebrating the history of Henderson this weekend?
The Heritage Days celebration goes back to 1952. In 1952, it had been 10 years since the building of the BMI complex and since the building of the old town site. The city of Henderson decided to have a celebration to celebrate their 10 th anniversary.
It was such a success that they began to talk about making it an annual event. The next year in 1953 they re-enacted the whole thing. They've done that every year since then.
What other memorabilia are you looking for?
Well, stories. We're really eager to do oral histories particularly for the old timers who were here in the 40s and the 50s.
Celebrate Henderson's past and future at Henderson Heritage Parade and Festival. The parade is at 10 a.m. Saturday in the Water Street District.
Rick Watson, board member, Henderson Historical Society; Barbra Coffee, director of Economic Development, Henderson; Scott Muelrath, president, Henderson Chamber of Commerce; Rick Smith, developer