Historian Dennis McBride Chronicles Gay And Lesbian History In Nevada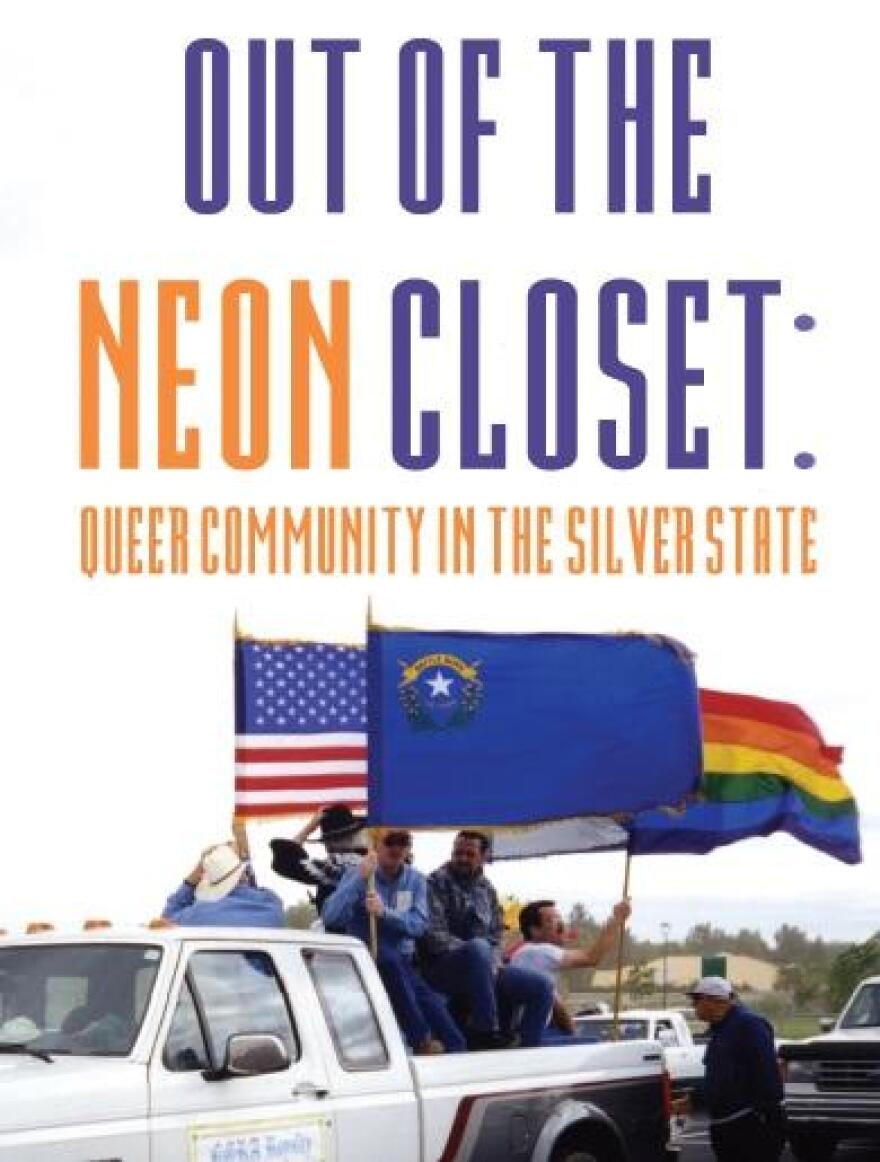 Historian Dennis McBride writes in his new book about Nevada's reputation as "tolerant of activities the rest of the nation shunned." However, over the decades - in the area of gay and lesbian rights - Nevada has had a checkered history.
McBride's new book is "Out of the Neon Closet: Queer Community in the Silver State," chronicles the fight for gay and lesbian rights in our state.
On growing up in Boulder City:
"My family were not very happy with it. My mother didn't really know what to do with a child like me. Given the times, given the context, what do you do with this boy who likes classical music, this boy who loves Broadway musicals? All the stereotypes, they were true in my case. What do you in 1963, 64, 65 with a child like that. She did the best she could but she didn't really know what to do about it.
My father was terribly abusive. And any evidence I gave of being gay openly, he smacked down right away. My parents divorced when I was 17 and so without that really baleful influence from my father then I really made up for lost time and started coming out then. It took me a good 10 years to work through my coming out process."
On coming out:
Especially at the time I came out and there were no resources. There were no gay-straight alliances. There was no Center. There were no gay characters on TV or in the movies. You had so much to consider. It was internalized how awful you were as a human being for being gay. How do you first of all deal with that in yourself but then when you realize it's okay – generally people do – then how are my family and friends going to deal with it? Who can I tell and who can I can't? And how can I tell them? And if I can't, how can I keep it a secret? There are just so many factors in coming out – used to be - that it drove many people to suicide. It drove me into therapy but only once. And all I had to hear was the doctor say, 'you know it is okay to be gay.' He was the first person to ever say that. So, that is all I needed to hear.
The AIDS crisis and Las Vegas:
"The gay community in Las Vegas really began in earnest when Nevadans for Human Rights was founded in 1977. That was the first political organization in the gay community. And we were making some pretty good momentum because right after that came Las Vegas Chapter of the Metropolitan Community Church and there was a Dignity Chapter, which is gay Catholics, and the gay academic union at the university. The very first gay pride event was 1983. So we were making some momentum the late 70s, early 80s here.
Then in 1983 – it was March – the first AIDS case was diagnosed in Las Vegas. How Las Vegas managed to miss it until 1983 was amazing in itself. But, once AIDS came to Las Vegas all the momentum in the gay community was making just evaporated. We found ourselves once again not only being pariahs for being gay but also carriers of pestilence and disease and all of that."
The AIDS crisis and civil rights for gay people:
Our idea of gay rights, our idea of equal rights, I don't think was very mature at the time we started in the late 70s, early 80s. It was still a big party. There were some very serious people, especially in NHR, who did understand. They came from other places. But I think it took the AIDS crisis to teach us compassion and self-reliance. And it matured the community in ways that people don't even understand today. It gave us the self-confidence that we had taken care of ourselves that we didn't have before. That we could then take forward into fights, real serious fights for equal rights.
The lives of two prominent Nevadans were ruined by anti-gay sentiments:
We're talking about Chief Justice of the Nevada Supreme Court Frank McNamee and Nevada Lieutenant Governor Fred Alward. Nobody had the whole story. It was just through my own persistence and a series of interesting coincidences that I was able to dig out these stories. And dig out first-hand accounts from people who knew them.
Fred Alward, probably the most popular and active lieutenant governor that we have ever had, and he was gay. He was running for governor. This was the 30s. I think 1938. He was running for governor on the Democratic ticket. And there were Democrats who did not want him to be the governor. They wanted someone else to be governor. So, one of his opponents… hired a private investigator to follow him down to a trip to Los Angeles. And they caught him having romantic liaisons with other men. They brought this report back and presented it to him. They said, 'if you continue with your run for governor, we're going to expose this report.' He was essentially blackmailed out of his position. He could go as far as he wanted. He was that popular in Nevada.
It didn't matter how popular you were, how influential. It didn't matter. The only thing that mattered was if you were exposed for being gay – everything was over.
The Chief Justice of the Supreme Court Frank McNamee came from a very prominent Nevada families. They had been here since the late 19 th Century. They were all lawyers. In his case, it was kind of an open secret.
In 1965, he had a house on Zephyr Cove on the south end of Lake Tahoe. He picked up a young man – he was 21 or 22 - who was hitchhiking from California. He picked him up and brought him home. Seduced him – tried to seduce him – and the boy beat him into insensibility. He never recovered. And the political establishment did everything it could to keep that boy from coming to trial, because if he came to trial then the whole story would come out about the Chief Justice of the Nevada Supreme Court was a [expletive] and they were more concerned about the embarrassment that would bring to the state than they were about making sure that McNamee received justice. And he died a couple of years after that in a nursing home.
What's next in Nevada:
I think the next fight we are going to face in Nevada is the so-called religious freedom laws. They can't really our genie back in the bottle. They can try in little ways. Obergefell vs. Hodges could be repealed by the Supreme Court, but I doubt that that could happen. But religious freedom laws are popping up all over the country and by giving religious people the right to refuse to serve gay people or Jews or Muslims or anyone else they have a sincerely held religious bias that could be a really, really difficult thing.
How things have changed:
"I started writing this book when I could have been thrown in jail for having sex with my boyfriend and finished writing the book when we're almost completely assimilated. So the arc of my own development through this has been amazing for me to note"
"One thing I want to note – and it is a nice bookend to the story of Frank McNamee, the Chief Justice. Brian Sandoval has just appointed to the Nevada Supreme Court the first openly gay justice. Lidia Stiglich. And when they had her swearing in ceremony, there was her wife and their daughter and it didn't mean a thing. And in 1965, this man was beaten to death and it was all but hidden because it was such an embarrassment to the state."
Talk by Dennis McBride, historian, and author
Thursday, April 6, 2017, 7 p.m.
Clark County Library
1401 East Flamingo Road
Las Vegas, NV 89119
For more information: 702-507-3459
Dennis McBride, author, historian, and director of the Nevada State Museum